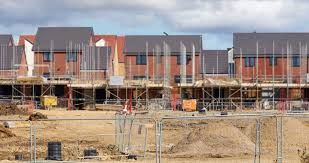 How Does the Planning System Work ?
If you are intending to object to a planning application it may help to have some background understanding on how the planning system works.
We can't make it "cool" but we may be able to help you to make sense of it!
National Policy and Housing Numbers
Nationally, the National Planning Policy Framework (NPPF) sets out National Policies on what is and what isn't acceptable in planning. This includes policies such as presumption in favour of brown field developments and the rules regarding protection of listed buildings.
See the National Planning Policy Framework.
The total number of houses to be built each year in each area is determined by central government and specified according to a complex formula. Local authorities then have to identify sites for the specified number of new houses. If they don't then developers are able to claim that the plan isn't valid and submit applications for developments outside of the planned areas.
Bizarrely if, due to lack of demand, developers delay the construction of houses for which they have permission, you may expect that to reduce the numbers which councils have to provide in future years as there is then a backlog of undeveloped sites. No, perversely, the council has to allocate even more land for development to make up for the shortfall!
Local Strategic Plans
Locally, each district council produces their own local strategic plans identifying the major areas for new developments. It also includes an allowance for "windfall" which are small unspecified sites such as infill etc.
In Bracknell;
the key policies are set out in the Core Strategy, 2008.
Click here for the Bracknell Core Strategy.
The Site Allocations Local Plan (SALP) 2013, identifies sites for developments in the period up to 2026.
Click here for the Site Allocations Local Plan.
This includes areas like the old TRL site and Cricket Field Grove at Broadmoor, which will increase the number of homes in the Crowthorne Parish by more than 50%.
A new site allocations plan covering the period up to 2036 is in process
In Wokingham ;
the Core Strategy, adopted in 2010, sets out the vision for development up to 2026
Click here for the Wokingham Core Strategy.
This includes a major development of over 2,000 homes in an arc south of Wokingham, between Wokingham and Crowthorne, stretching from Tesco to the Coppid Beech roundabout.
Work is underway on an update which will guide development up to 2036
The starting point for these local plans is a call to landowners asking for proposals of land they would like to put forward for development. These are then assessed and the most suitable ones are selected. This is then supported by proposals for supporting infrastructure including roads, transport, schools and surgeries.
These plans are then put out to consultation. They are huge documents, often running in excess of 1,000 pages. Not many residents have the time or the inclination to work their way through them. However they are important to CVAG as once a site is accepted in an adopted plan as being suitable for a specified number of houses, then it is difficult to argue against the planning application when it submitted. Hence we do spend a lot of time looking at them and submitting comments in response to the consultation. It's an uphill battle as the council, needing to meet their "numbers" are reluctant to accept arguments as to why a particular site may be unsuitable.
Crucially, before a local plan can be accepted it is examined by an external examiner. This is often our first, and only, opportunity to put our case in front of an independent person.
This overall plan is then supported by a series of supplementary documents which specify rules for things like how much parking should be provided etc.
The Special Protection Area
Crowthorne woods are part of the Thames Valley Basin Special Protection Area (SPA) as it is the nesting ground of a rare bird, the Dartford Warbler. This is a ground nesting bird and is therefore vulnerable to predators including cats and dogs, so residential development in its environs is very restricted.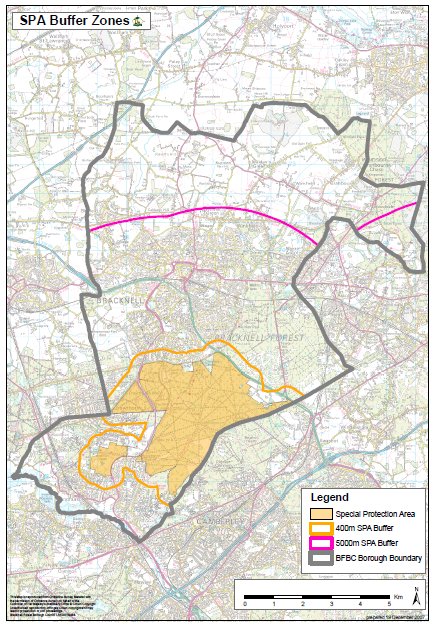 Within Zone A, up to 400m from the SPA boundary, new residential building is not permitted.
Zone B, from 400m to 5Km, any new residential development must be offset by some additional recreational area, a Suitable Alternative Natural Greenspace, (SANG)
Larger sites such as Bucklers Park can provide a SANG within the site boundary. Smaller sites must make a financial contribution towards a SANG somewhere else.
Neighbourhood Plans
We now have new layer, called the Neighbourhood plan. This allows a neighbourhood to indicate what their priorities are. Unfortunately this can't rule out further development and must support the planned number of houses enshrined in the local strategic plan.
In the Bracknell half of Crowthorne, Crowthorne Parish Council has produced a draft plan which is now out for consultation. They hope it will be approved early in 2020.
For the Wokingham half of Crowthorne, Wokingham Without Parish Council are also producing a neighbourhood plan.
Decision Making
The actual decisions are made by the Borough Councils, Bracknell or Wokingham in our case. The Parish Councils may make comments, which are taken into consideration by the Borough, but it's the Borough which makes the decisions.
When a planning application is submitted, an employee of the council planning department, the planning officer, will judge the application against the criteria laid down in these policies. In some instances the application will be decided by the planning officer and in other cases it is referred to the planning committee, which is made up of elected borough councillors. If it meets policy, it is approved. If it doesn't, it is rejected. Hence these policies are very important in shaping the area in which we live.
If an application is refused the applicant may lodge an appeal to the Planning Inspectorate, so it is judged by an expert from outside of the borough. If the appeal is successful then the applicant can claim the costs of the appeal from the council. These costs can be high as they may include reports from expert consultants on various aspects of planning policy. Hence local authorities err on the side of caution and will only refuse an application if they are confident that there is good justification in planning policy.
Rather unfairly, there's NO right of appeal by objectors if they feel an application should not have been granted, which is why CVAG encourage you to lodge your objections at the time that an application is submitted!