Introduction
The woodlands, parks, countryside and open spaces help make Crowthorne a place where families and individuals want to live and is something we are committed to protecting and enhancing.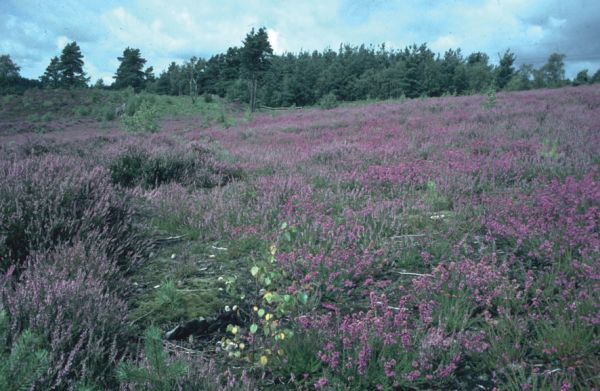 CVAG  is a member of the Bracknell Forest Council Biodiversity Forum (The Forum) and part of the team that has put forward suggestions to be included in Bracknell's last two Biodiversity Action Plans (BAPs). These plans go forward right into the next decade to guide and inform planners and conservationists and the like.
Thames Basin Heath Special Protection Area
A large part of Crowthorne Woods is part of the Thames Basin Heath Special protection area (SPA). The SPA is a network of heathland sites which are protected as they provide a habitat for the internationally important bird species of woodlark, nightjar and Dartford warbler. Designated in March 2005, it is protected under both UK and European law, "The Conservation of Habitats and Species Regulations 2017" and "European Directive 2009/147/EC".
The Dartford warbler is ground nesting bird, so is easily disturbed. Consequently it is important that the nesting area is protected from disturbance caused by a growth in the number of walkers, cats and dogs frequenting the heathland, resulting from additional housing. There are strict rules governing new houses within up to 7 Km of the SPA boundary.
| | | |
| --- | --- | --- |
| | | |
| Zone A | Within 400 m boundary | New residential housing is not usually permitted. |
| Zone B, | Between 400m and 5Km | Mitigation measures must be put in place so there is no additional pressure on the SPA. Large developments, such as Bucklers Bark will have a Suitable Alternative Natural Greenspace (SANG). This should be an attractive recreational area which residents can use instead of going into the SPA. Smaller developments can make financial contribution towards provision of a SANG somewhere else. |
| Zone C | Between 5 km and 7Km | Mitigation required. Usually a financial contribution towards provision of a SANG |
Note that care homes are not considered to put additional pressure on the SANG, so no financial contribution is required, which may account for the large number of care homes in Crowthorne area!
Click Here to see the SPA Boundary Map
Click Here to see the Bracknell forest Supplementary planning guidance regarding the SPA.
Buckler's Forest
This area is created as suitable alternative natural greenspace (commonly known as SANG). – in other words, an alternative to the Special Protection Area (across the Bracknell Road) so that people and dogs can walk without disturbing protected ground nesting birds. Opening in 2018, it is already proving very popular for walkers, who have made many positive comments about the walks. There are several kilometres of neat gravel-paved walks and lots of trees, both semi-grown and 'saplings', have been planted. Saplings lost due to the dry summer will be replaced whilst it was remarked that some willows near the many ponds and water courses are doing much better. If you haven't been for a walk through Buckler's Forest you should. It is really pretty already – and will be even nicer when the new landscaping has matured.
Bracknell Biodiversity Action Plan (BAP 2018-2023)
The Bracknell Biodiversity plan sets out the framework for protection of habitats and species in the countryside in and around Bracknell. CVAG representatives were part of the consultation team helping to form this plan.